click to view pop-up enlargement
The Thames Festival 2010
It was great collaborating with House of Fairy Tales www.houseoffairytales.org and artists Des Kay and Francis Thorburn on The Waterwheel www.waterwheel.org.uk
For The Thames Festival we built The Florascope, our first water powered bottle sculpture, including work from Kinetic Tate Britain and partly using bottles collected and decorated by children from the workshops we did with two participating London Primary schools.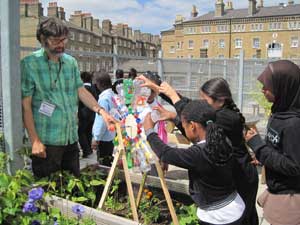 This was a huge project culminating in three interconnected water powered kinetic sculptures, running over a very busy weekend with an audience of thousands, on The South Bank, near The Oxo Tower.
The project also involved parallel workshops with dozens of London schools and the vision of Josh Knowles and Helen Chapman of House of Fairytales.